Mauri O Nga Toa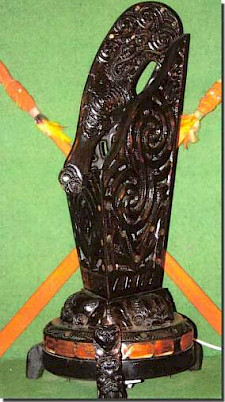 Mauri O Ngatoa translated means Spirit of the Warrior, conceived by the then King Country- Waikato Branch MVA, and carved by Blackie Graham.
The initial piece, the Kotiate -- a wooden fighting weapon -- was originally a raffle prize. It was donated back to the branch, who then decided to create a larger carving for reunion recording purposes.
The work depicts a war canoe's prow carved in the Maniapoto regional tradition, with the Kotiate mounted within the triangle representing the three Armed Services (Army, Navy, and Air Force) which are marked on each side above the base. 
Each side has a M, representing the theatre of service Malaya/Malaysia surrounded by whirls depicting the rivers of life. When perused head on, an owl appears suggesting the wisdom of war and a tattooed warrior head denoting who was at war. Both of these figures were unintentional but suggest there is something more within the carving than meets the eye -- hence Mauri O Ngatoa. 
The base is carved with three ancestors as traditional Maori warriors. Below this are the copper bands that record the cities and the years reunions have been held, and located in the immediate front facing outwards is the Kaitiaki or guardian. The Taonga/Treasure is housed in a travel case which is internally lit where the Taonga rotates slowly showing all the facets of Mauri O Ngatoa. 
Mauri O Ngatoa travels from reunion to reunion and is usually kept in the local RSA clubrooms, in the city of the host branch holding the Taonga, for two years leading up to the reunion, where it is displayed proudly at all functions during this time.